6Ton TM966 front end loader with Weichai engine, A/C and Joystick, good price, high quality, high dumping performance, great working efficiency, widely accepted by our clients.
Main Features
This loader install (WD10G240E201) Engine with low emission, low noise, low fuel consumption and excellent productivity.
The front end loader with maintenance-free storage battery of international brand and negative-pole cutting switch are safe and reliable.
Fully hydraulic steering and dual-pump-converging system for this loader make the pay loader work with high efficiency and lower power loss.
Long wheel base makes powerful traction, short cycle time and outstanding performance.
Single rocking arm with Z type linkage for this shovel loader makes the wheel loader powerful breakout.
Extra-large engine hood provides easier access for maintenance.
Neatly arranged hydraulic hose are attractive and durable.
Centralized lubricating system are easy to maintain.
Outstanding machine performance and price ratio, high dumping performance, great working efficiency.
Rocket bucket 3.3 m3, Largest bucket for coal 4.5 m3, FOPS/ROPS cab are available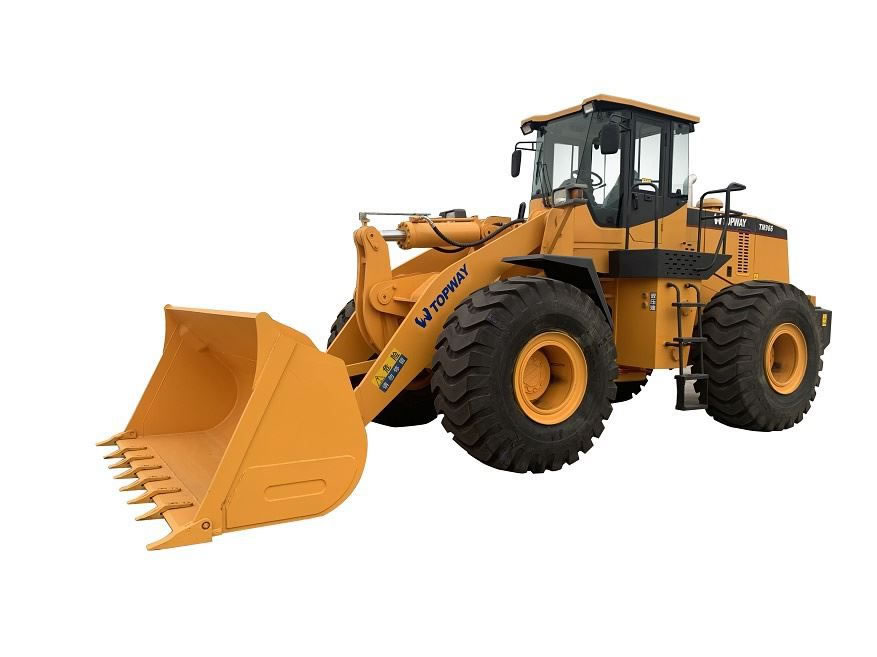 Specifications
| | |
| --- | --- |
| Model | TM966 |
| Operating weight | 19.5T |
| Rated load | 6,000 kg |
| Bucket capacity | 3.5 m³ |
| Engine model | WEICHAI WD10G240E201 |
| Rated engine power | 178KW |
| Rated rotate speed | 2200 r/min |
| Maximum torque | 920N.m |
| Breakout force | ≥200KN |
| Forward Ⅰ | 0-8.5km/h |
| Forward Ⅱ | 0-16.5km/h |
| Forward Ⅲ | 0-25km/h |
| Forward IV | 0-42km/h |
| Reverse Ⅰ | 0-8.5km/h |
| Reverse Ⅱ | 0-16km/h |
| Grade ability | 28° |
| Overall length | 8380mm |
| Overall width | 3100mm |
| Overall height | 3560mm |
| Wheel base | 3350mm |
| Track base | 2360mm |
| Minimum ground clearance | 470mm |
| Maximum dumping height | 3300mm |
| Maximum dumping reach | 1290mm |
| Raise time | ≤6.8s |
| Total | ≤12.5s |
| Tyre type | 26.5-25 |
Hot Tags: 966 3.5cubic meter wheel loaders, China, suppliers, manufacturers, factory, customized, custom, wholesale, buy, price, cheap, for sale