3.0Ton 1.7 CBM TM936 3.0Ton front end loader with Deutz or Cummins engine, Highly rated by customers, very good performance and competitive price, quick delivery time
Main Features
This loader install Deutz (WP6G125E22) engine with low emission, low noise, low fuel consumption and excellent productivity.
Transmission and torque converter for this shovel loader are superior in excellent universality and low maintenance cost.
The wheel loader have Unique and novel appearance, independent instrument assemble, driving cab with detachable design to ensure wide operation space, excellent view, comfortable seat.
The front end loader have long arm(optional) can be close to 5ton wheel loader for the dumping height(about 3.1M)
This pay loader install fixed-spindle gearbox with four speed shifts forward and two backward
Excellent whole-machine performance and extraordinary operation efficiency
Suitable for excavation and high unloading operation condition
Short wheel base shorten working cycle time
There are Rocket bucket 3.3 m3, Largest bucket for coal 4.5 m3 , fork, log grapple, quick hitch available for this loader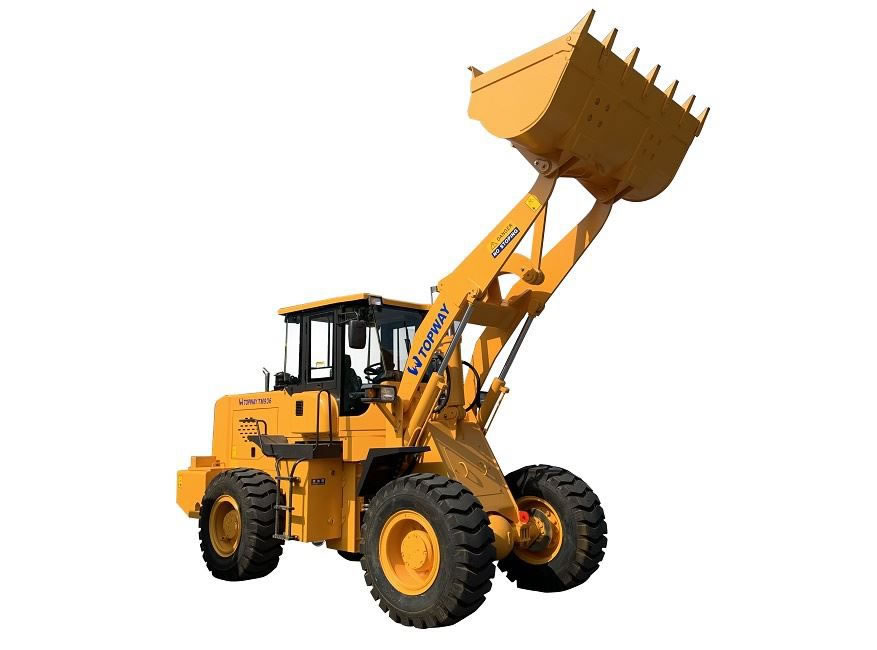 Specifications
| | |
| --- | --- |
| Model | TM936 |
| Operating weight | 10,500 kg |
| Rated load | 3,000 kg |
| Bucket capacity | 1.7m³ |
| Engine model | Deutz WP6G125E22 |
| Rated engine power | 92kw |
| Rated rotate speed | 2200r/min |
| Maximum torque | 500N.m |
| Breakout force | 98KN |
| Driving speed | |
| Forward Ⅰ | 0-8km/h |
| Forward Ⅱ | 0-13.5km/h |
| Forward Ⅲ | 0-25km/h |
| Forward IV | 0-36km/h |
| Reverse Ⅰ | 0-9.5km/h |
| Reverse Ⅱ | 0-30km/h |
| Grade ability | 28° |
| Overall length | 7200mm |
| Overall width | 2350mm |
| Overall height | 3200mm |
| Wheel base | 2850mm |
| Track base | 1800mm |
| Minimum ground clearance | 450mm |
| Maximum dumping height | 3400mm |
| Maximum dumping reach | 1290mm |
| Raise time | ≤6.8s |
| Total | ≤12.5s |
| Tyre type | 17.5-25 |
Hot Tags: 3.0 ton small wheel loaders, China, suppliers, manufacturers, factory, customized, custom, wholesale, buy, price, cheap, for sale