TM32T 32Ton granite marble quarry stone handling wheel loader specially for quarry to handle stone block, Komatsu WA470 wheel loader frame, mainly used in marble or granite quarries or stockyard for block loading, unloading and stacking stone block, good quality and high efficiency, good stability
Main Features
Forklift wheel loader loader engine: Weichai low rated rotate speed Engine, strong power, energy conservation and environmental protection. Cummins engine, Shangchai engine is optional.
Safety for block handling pay loader : The brake system adopts a constant temperature cooling device with independent research and development patent technology to ensure stable, safe and reliable braking.
Humanized design: With joystick, professional air conditioning, Cab heightening design creates a comfortable operating environment.
Forklift loader structural parts: The comprehensive steel plate is thickened, the height of the chassis off the ground and the departure angle are increased, and it is suitable for various harsh environments. It is easier to mine the materials and stabilize the operation.
Granite marble quarry stone handling shovel loader with the single rocker arm structure produces a larger excavation force, and the Z-form structure specially designed for stone working conditions has strong bearing capacity.
Depending on the working conditions, ultra short wheelbase, short wheelbase and long wheelbase are available.
Wheel loader boom with four boom plates of the double rocker arm effectively solves the problem of poor driver's line of sight.
Stone handling front end wheel loader hydraulic systems: To adopt confluence of dual-pump confluence and diffluence technology, rational use of engine power, reduce energy consumption effectively. Independent transmission and hydraulic cooling improve the hydraulic system stability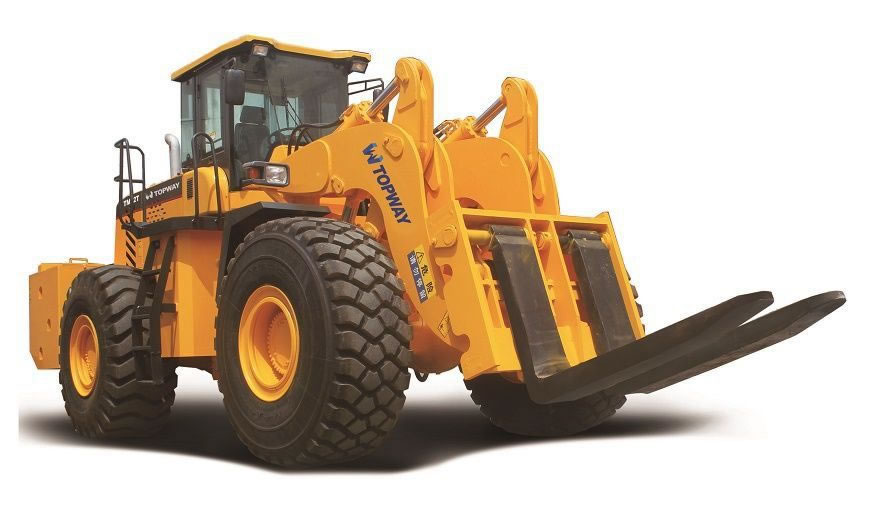 Main Specifications
| | |
| --- | --- |
| Model | TM32T |
| Operating weight | 35,000kg |
| Rated load | 32,000 KG |
| Engine model | WD10G270E201 |
| Rated power | 199KW |
| Rated rotate speed | 2200r/nin |
| Max. torque | 1100N.m |
| Max. traction force | ≥192KN |
| Breakout force | ≥331KN |
| Driving speed | |
| Forward Ⅰ | 0-6.5km/h |
| Forward Ⅱ | 0-12.3km/h |
| Forward Ⅲ | 0-24km/h |
| Forward Ⅳ | 0-41km/h |
| ReverseⅠ | 0-6.5km/h |
| ReverseⅡ | 0-12.3km/h |
| Gradeability | ≥25° |
| Turning angle | 35° |
| Overall length | 9900mm |
| Overall width | 3130mm |
| Overall height | 3680mm |
| Wheel base | 4200mm |
| Track base | 3147mm |
| Torque converter | YJ335 |
| Transmission | Counter shaft |
| Raise time | 13.7s |
| Tyre | 29.5-25 or 29.5R25 |
Hot Tags: 32 ton block handling wheel loaders, China, suppliers, manufacturers, factory, customized, custom, wholesale, buy, price, cheap, for sale