TM12J 12Ton log grapple wheel loader with Weichai engine, Komatsu technology log clamp, wood grapple, easy to load and unload the big wood log, heavy timber in the forest or wood yard, high efficiency, good quality and low price
Main Features
1. Wheel loader engine: Weichai engine, high-end engine, high efficiency and low noise cooling technology. Powerful, reliable performance.
2. Log grapple loader tank: Reinforced structure to ensure the tank intensity under vibration. Fuel tank capacity is 280L can meet the oil demand after a long time and continuous operation.
3. Wood clamp front end loader counterweight: large steering angle and thick slabs counterweight, not only reliable but also practical.
4. Boom cylinder, the rotating bucket cylinder-reinforced type cylinder piston rod.
5. Drive axle-increase, enhanced professional drive axle, bearing gears, wheels hub, increase block bearing, use special heavy vehicle brake materials and advanced hydraulic technology. Effectively guarantee the brake performance, reduce the fault rate.
6. Timber clamp pay loader boom: lengthen, double-thick type boom, shift within the fulcrum force, increase and guarantee the strength.
7. Timber grapple shovel loader with front and rear frame special design and manufacture of the frame, with a strong ability to support and lateral stability of the vehicle.
8. Tires: Front wheel specially for forest.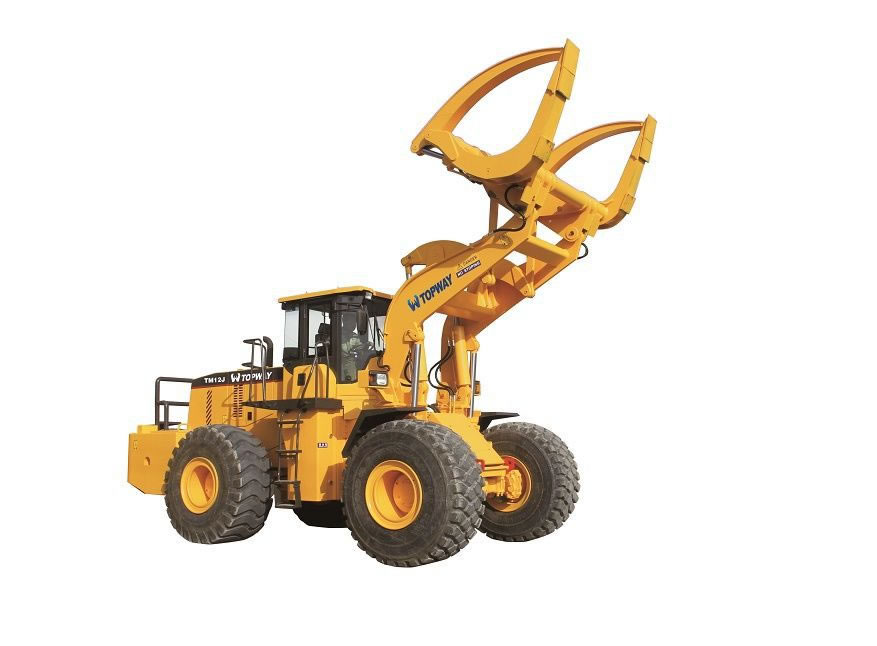 Main Specifications
| | |
| --- | --- |
| Model | LT12J |
| Operating weight | 26300kg |
| Rated load | 12000kg |
| Engine model | WD10G270E201 |
| Rated power | 199KW |
| Rated rotate speed | 2200r/nin |
| Max. torque | 1100N.m |
| Breakout force | ≥225KN |
| Driving speed | |
| Forward Ⅰ | 0-6.5km/h |
| Forward Ⅱ | 0-12.5km/h |
| Forward Ⅲ | 0-24km/h |
| Forward Ⅳ | 0-41km/h |
| ReverseⅠ | 0-6.5km/h |
| ReverseⅡ | 0-12.5km/h |
| Grade ability | 25° |
| Overall length | 9650mm |
| Overall width | 2870mm |
| Overall height | 3800mm |
| Wheel base | 3600mm |
| Track base | 2360mm |
| Min. Ground clearance | 480mm |
| Max. Dumping height | 3800mm |
| Max. dumping reach | 1450mm |
| Lift time | ≤6.8s |
| Total | ≤12.5s |
| Tyre | 26.5-25(Front, Rear 26.5R25) |
Hot Tags: 12 ton log front end loaders, China, suppliers, manufacturers, factory, customized, custom, wholesale, buy, price, cheap, for sale